Ainsley Timmons, MA, LPC Associate
Supervised by
M. Michelle Hawn

, MA, LPC-S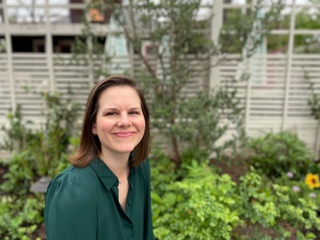 "I know you are tired but come. This is the way." ~ Rumi
Howdy, and thank you for taking time the time to visit & learn more about therapy with me!
The human experience can be overwhelming.
We can find healing & our way forward in the safe space of a therapeutic relationship as we learn more about ourselves through genuine, non-judgmental curiosity & how to be in our body with a regulated nervous system.
We are unique beings who share the universal experience of being human.
Each of us is woven together with biology, culture, belief, experience, trauma, thought, feeling & sensation. These are just a few of the many elements that make each of us our own one-of-a-kind being, and they also connect us through the universal experience of being human.
So, rather than a "one size fits all" approach to therapy, I provide a holistic, integrative approach tailored to your individual needs that can include body work (Somatic Experiencing®), the Existential and Attachment lenses, as well as traditional modalities & our good ol' friend, humor.
Some things about the human that is me 🙂
 In case "Howdy" didn't give it away up there, I'm a 4th generation Texan, but enjoyed time on some other planets including D.C., L.A. & N.Y.C. before returning to the land of live music & tacos a few years ago.
My wife & I love to travel, exercise when it's disguised as nature adventures, read books with paper pages, eat all the good food, listen to records, and have amassed an embarrassingly large board game collection. I can talk to a brick wall, but my happy place is being home with our 3 adopted fur babes – River, Edith, and Miles Davis (until it's time to feed them & our house morphs into The Hunger Games).
 "Begin anywhere." ~ American philosopher & experimental musician John Cage
I began my therapy journey at age 20 after a life-threatening medical trauma, so I know how daunting it is to (literally) take that first step through the door.
Over the years, while I found the gifts of compassion and safety in therapy, I struggled with not "having the words" for my experience – especially for trauma.  This is why learning how to be safely in my body ("embodied") with all my different parts, experiences, memories, feelings, thoughts, images etc. with a regulated nervous system was life-changing!
You don't need words or even meaning to process trauma.
Learning to be embodied in the here and now, we will teach your body that you are safe on a cellular level. By continually learning to be in and stay in your body, your window of tolerance for a variety of sensations and states (triggers, rapid heartbeat, or even dissociation to name a few) becomes wider and deeper. In short, you learn to feel the feels safely – and in doing so you can see, hear, feel, and understand yourself in a completely different way.
We all have experienced trauma, whether relational, mental, physical, spiritual, or emotional.
There are many (voluntary and involuntary) responses to trauma – shutting down, acting out, distracting, chronic pain, numbing, or even passing it on to others – and some of us stay stuck in those places for a lifetime. Maybe you are ready to take your first, or second, (or tenth) step towards healing & living your life more fully?
I respect & admire your courage to be vulnerable with me & most importantly, with yourself.
 Vulnerability is opening up to acknowledge what is, what is not, and what could be. Vulnerability can be terrifying as it carries the risk of potentially being exposed (or re-exposed) to pain & suffering. Yet, this act of bravery – when paired with the powerful tools of self-awareness, embodiment, psychoeducation, and lots of compassion – offers a path to healing.
I invite you to reach out for a free 20-minute consultation to determine if working together is a good fit.   If we decide another therapist might be more helpful for you, I am happy to provide recommendations. Austin has a diverse, vibrant healing community, and finding the right therapeutic relationship makes all the difference!
**Ainsley is available for In Person or Telehealth Sessions with Texas Residents**
Areas of Focus: Adults, Anxiety, Chronic Pain/Illness, Depression, Grief & Loss, LGBTQIA+, Trauma (Family of Origin, Medical, Relational, Religious/Spiritual), The Human Condition a.k.a. being alive 🙂
Special Skills: Attachment, Compassion-Focused, Existential, Mindfulness, Person-Centered, Relational, Somatic Experiencing® (Levels I & II).
Fee: $130 for 50-minute session.
Contact: (512) 765-5676 or ainsleylpca@gmail.com
"This must be the place."
– The Talking Heads