Andy David, MA, LPC Associate
Supervised by
M. Michelle Hawn

, MA, LPC-S
Office Location: Labyrinth Counseling at Wellspring
6200 Williams Drive, Georgetown, TX 78633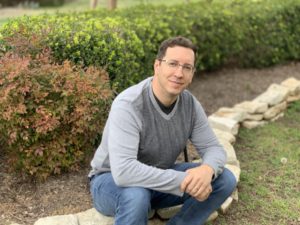 ***Andy is available for Telehealth Video Sessions.  Get started today!!!***
Welcome to a journey toward healing, wholeness, and remembering who you are.
People exist in relationship.
Your identity is wrapped up in key relationships. These include present friends, family, and romantic partners, and also relationships from your past that created patterns of behavior.
Some of these patterns are helpful, even intrinsic to who you are. Others are not serving you, and need to be re-examined and re-imagined.
Let's be intentional.
I am intentional in creating a place where you can be yourself, be seen, and find the safety to tell the story that's inside of you, desperate to get out.
I treat that story as sacred, and it becomes a pathway for us. I will walk the journey alongside you with curiosity, humility, openness, positivity, and even humor. Together, we will celebrate as you take step after step toward becoming the real you.
I love to play.
I enjoy board games, sports (especially volleyball), video games, poker, and anything that has a competitive and/or silly element to it. But the best games of all are played with my preschool aged daughter, Mira. You can create a whole world with a mattress, a flashlight, and some Doc McStuffins doctor tools!
In addition to counseling, I work at a LGBTQIA+-affirming church in Georgetown where I coordinate and lead music for worship, design worship services, and coordinate caring ministries at the church.
Fee: $60 for 50-minute session
Areas of Focus: Adult Individuals – Depression, Anxiety, Spirituality, Adjustment, Relationships, LGBTQIA+; Adult Couples – Conflict, Communication, Stagnation, Divorce, Child-rearing.
Special Skills: Family Systems, Person-Centered, Existential, Experiential/Somatic, Cognitive Behavioral, Music Therapy, Spiritual Guidance, LGBTQIA+ Affirming
Contact: (512) 842-7572 or davida@wellumc.org
"We can choose courage or we can choose comfort, but we can't have both.  Not at the same time."
– Brene` Brown