Dheva Liebman, MA, LPC Associate
Supervised by
M. Michelle Hawn

, MA, LPC-S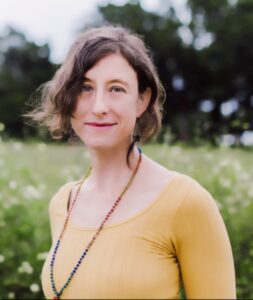 Welcome and thank you for taking the time to learn a little about me and my approach to therapy.
When we are seen, heard, and understood within the safety of a therapeutic relationship, the unbearable becomes more bearable.
Often times when our core needs aren't met early in life, we develop adaptive mechanisms to help keep us safe. As we grow older these mechanisms that were once protective may begin to negatively impact our moods, our capacity to maintain long-lasting and meaningful relationships, our decision-making and even our overall sense of purpose in life.
In our work together my intent is to assist you in becoming metaphorically bigger than your challenges so that you can gain insights and new perspectives about them. When our capacity for self-awareness and self-compassion are strengthened, we are able to make clearer and more informed decisions, tolerate and flow with life's ups and downs better, as well as improve our interpersonal communication and the health of our relationships.
Becoming a counselor was both a personal and professional calling.
Counseling has always been a calling of mine, going as far back as early adolescence. I was that friend who would provide heartfelt listening and compassionate feedback when those closest to me were going through distressing times.
Growing up with mental illness in my family also had a huge impact on my own mental health and laid the groundwork for me becoming highly attuned to the emotional states of others.  I was lucky enough to have parents that recognized my empathic and sensitive nature and who brought me to therapy at an early age.
Life is not a clear and straight path for most of us, and I am no exception. 
It took me nearly 15 years after graduating college with a BA in Psychology before making the choice to pursue my Master's in Counseling! While I always knew for certain I wanted to work directly with people, I often felt lost and somewhat dissatisfied by the roles I was serving in. It was through my own therapy that I began to build more confidence about my innate gifts and gained the clarity to pursue a career in counseling.
It is my earnest belief we thrive and heal best in connection and in relationship.
I have a particular passion for supporting individuals through the process of healing trauma. I also enjoy working with creative types and artists, as well as those who are curious about spirituality and transpersonal practices and how they can inform the way we relate to others, see ourselves and see the world. (Please note – I am not a faith-based therapist and I do not subscribe to any one spiritual tradition).
My approach is relational, person-centered and integrative – I will meet you where you are and incorporate different therapeutic styles based on your individual needs. My commitment as your therapist is to be fully present with you, just as you are, in all of your tender humanness and complexity. 
Areas of Focus: Trauma (including Family of Origin and Relational Trauma), Depression, Anxiety, Low Self-Esteem and Self-Worth, Relationships, Pregnancy Loss, Existential Crisis, and Gender Identity.
Special Skills: Relational, Attachment, IFS, Existential, Somatic and Mindfulness-Based, Trauma-Informed, LGBTQIA+ Affirming.
Fee: $120 for 50-minute session. Finding a therapist that you feel comfortable with is paramount – I offer a free, in-person, 20-minute consultation to give you the opportunity to see if I might be a good fit for you.
Contact: therapywithdheva@gmail.com
"There's a crack in everything. That's how the light gets in."
– Leonard Cohen