Maria Eduarda Machado, MA, LPC Intern
Supervised by
M. Michelle Hawn

, MA, LPC-S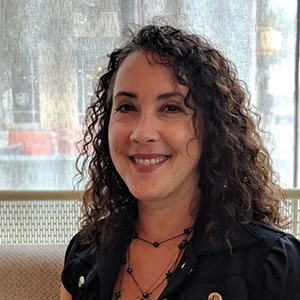 (Currently, Maria is not accepting new clients)
In a safe and welcoming space, I will walk beside you in your journey of healing and self-discovery. With curiosity and warm, compassionate regard, I will hold space for you to journey inward.
I will walk beside you in the darkness.
When needed, I will shine a light for you, so you know I am with you, step-by-step on the path back to your authentic self.
I was born in Rio de Janeiro, Brazil and grew up in Boston, Massachusetts from the age of seven in a blended, multi-cultural, multi-lingual family. My childhood was spent between vacations in Brazil with my father and extended family, as well international travel.
As a young adult, I studied and lived abroad in Italy (1 year) and Switzerland (3 years) allowing me a special appreciation for diversity and a unique understanding around immigration and acculturation.
Therapy has played a pivotal role throughout my life…
…starting with my parents' separation in Brazil when I was five-years-old and continuing to offer support and guidance through times of loss, divorce, trauma, and unemployment.
I hold a master's degree in Clinical Mental Health Counseling from Lesley University (2017) in Cambridge, Massachusetts.
As a multi-lingual professional in English, Portuguese, Spanish, and Italian, I offer clients from other cultures the ability to express themselves in their preferred language. I know, from personal experience, how cathartic it can be to speak your emotional truth in your language while surrounded by a foreign culture.
I believe I can bring a wealth of experience and compassionate self-awareness from my own journey.
Fees: $60 for 50 minute session
Areas of focus: Adult individuals – Anxiety, Spirituality, Trauma, Life adjustments, Self-esteem
Special Skills: Narrative Therapy, Mindfulness, Somatic Therapy, and Existential Therapy.
Contact: (512) 698-1434 or cariocagirl71@gmail.com
"The wound is where the light enters you."
– Rumi