Where are you located?

8700 Manchaca Road
Suite 804
Austin, TX 78748

I am located in South Austin at the corner of Manchaca Road and Davis Lane. We are in Building 8 of the Grand Oaks Office Condominiums, which is most easily accessed by the Davis Lane entrance.

My office is in Suite 804 — you'll see the Labyrinth logo on the door!
What are your hours?

I generally see clients on Tuesdays, Wednesdays, and Thursdays:

Tuesdays/Thursday hours – 10 am – 7 pm
Wednesday hours – 11 am – 7 pm

I will occasionally schedule outside of those times, but not on a regular basis.
How much do you charge?

My fee is $165 per hour.

If that does not sound like a sustainable amount for you, please see "How do I afford therapy?" below.
Do you take insurance?

I am currently not taking new clients with insurance.

If your insurance provides a benefit for out-of-network mental health care, I can give you a receipt with information you can send your insurance company for reimbursement.  I do not bill your insurance company on your behalf.
How long are sessions?

Individual and Couples sessions are typically 50 minutes long. There are times when clients and I decide to have longer sessions due to the type of work we are doing.
Do you do free initial consultations?

Yep! I am happy to do a free 20-minute consultation with you.

Most folks prefer to do that by phone, and we can also meet face-to-face. It is super important that you be comfortable with and confident of your therapist, and this is a great way to ensure that.
How do I set up an initial appointment, and what do I need to bring with me?

Just give me a call! We will find a time that works for us both.

Then, I will send you a link to our confidential client portal.  There you will complete the Intake Form, Welcome Letter, Credit/Debit Card Authorization Form and Privacy Practices.  Once I receive all your completed forms, I will send you a link where we will connect via Telehealth for our sessions.

Couples will need to fill out a set of forms each.
What is your cancellation policy?

Cancellations will need to be made 24 hours or more before your scheduled appointment, or a fee of $40 will be incurred. The same charge applies to no shows. To help you avoid this, I can set you up for reminders via text or email.
What can therapy do for me?

The trusting and authentic relationship formed between us can be transformative. Often, it can be healing simply to be truly heard and understood. I can offer new perspectives, support, and provide insight moving you toward your personal goals.

Other benefits may include increased mindfulness and self-awareness, improved management of specific problem areas such as depression or anxiety, improved problem-solving skills, and enhanced coping strategies.
Is therapy really necessary? I can usually handle my problems.

It is great that you have the experience of successfully navigating through troubled waters!

I find that even folks who can typically handle high levels of stress can find themselves overwhelmed, discombobulated, unsure, sad, frustrated, confused, and just stuck sometimes.

I believe that seeking help in these situations reflects a high level of self-awareness, emotional maturity, and personal responsibility. I am constantly humbled and inspired at the courage of my clients wholeheartedly seeking better lives for themselves and their loved ones.
What sorts of issues do people work on in therapy?

There are almost as many possible issues as there are people. Just a few of the ones I specialize in are listed below. We are fortunate to have many excellent therapists in town with other specialties, as well.

Life Transitions
Existential & Spirituality Issues
Anger / Anxiety Management
Conflict Resolution
Grief & Loss
Work & Career Issues
Chronic Pain
Chronic & Terminal Illness
Discernment & Direction
Aging
Relationship Issues (Intimate, Family, Work, Self)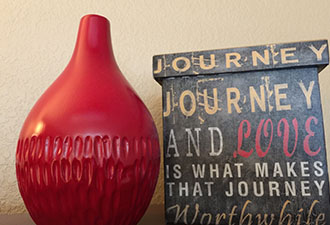 "You live you learn, you love you learn
You cry you learn, you lose you learn
You bleed you learn, you scream you learn
You grieve you learn, you choke you learn
You laugh you learn, you choose you learn
You pray you learn, you ask you learn
You live you learn"
– Alanis Morissette, "You Learn"
Isn't there a pill for that?

Maybe. I am in no way opposed to appropriate medication administered by a trained mental health professional.

However, it is well established that the long-term solution to mental and emotional problems is not medication alone. That approach tends to only mask the symptoms (pain, depression, anxiety, etc.) of mental and emotional distress.

The long-term solution is to follow where the symptoms lead and address the underlying root causes of your distress.
What is it like?

It really depends on your therapist – and finding a good "fit" with your therapist is paramount to success in treatment.

My approach to therapy is collaborative, and I invite my clients to be co-therapists in their treatment. I provide a safe, creative, and dynamic space in which they are offered tools to help them on their journey toward what they really want and who they really want to be.

I incorporate many different approaches, so that time may be spent talking in more experiential ways.
How long does therapy take to work?

On the average, clients work with me between six months and a year, with many finishing within 12 sessions. In the first session (or so), we will decide upon your goals for therapy. Some take only a few sessions to complete, while others may take several weeks, months, or years to be fully realized.

It is fairly common that my clients complete a piece of work with me, and then return a time later to work on other issues.
Is there a downside?

There is a possibility that your problems may temporarily worsen after the beginning of treatment. You may recall unpleasant memories or experience difficult feelings. Relationships are often affected as a result of therapy. As you effect change in yourself, those around you may have difficulty adjusting to your new way of being.

Therapy is a powerful, dynamic process – and these types of risks are to be expected as a natural element of making significant changes in your life.
Will there be tears?

Maybe. Chances are, there will be laughter, too. I welcome all of you and your parts/emotions! I find most people spend tons of time trying to "solve" their issues and not enough time feeling their feelings, understanding and making space for them.
How does confidentiality work?

As a Licensed Professional Counselor in the State of Texas, I will keep confidential anything you disclose to me, with the following exceptions:

You direct me to tell someone.
I have reason to believe you are in imminent danger of harming yourself or others.
I am ordered by a court of law to disclose information.
You report abuse or neglect of a child or a handicapped or elderly person (by you or someone else).
If you submit therapy sessions for reimbursement through an insurance company, they may require that diagnosis or treatment information be reported.
How do I afford therapy?

I have heard many people speak of therapy as an indulgence or luxury. I view psychotherapy as a form of self-care, just as important to a well-balanced person as sleeping, eating well, exercise and regular medical check-ups.

It seems sometimes couples, especially, feel like putting time and money into their relationship needs to take a backseat to other things.

I look at the alternatives and wonder how much might a separation or divorce cost? What might you end up spending on a DWI if you are self-medicating emotional distress? What is the cost to your children (and their future families) when they learn how to conduct their relationships based on an unhealthy and sometimes abusive example? What is the price of living an unhappy, fearful or unfulfilled life?

If money is the only thing standing in the way of you getting the support you need, please contact me. There are many, many options in our lovely Austin area that will connect you with the resources you need, and I will be happy to help you get moving in the right direction.
Will there be snacks?

Sometimes. For sure we will have beverages. Therapy can be thirsty work, so we offer hot/cold water, and a selection of caffeinated and decaffeinated teas in the waiting area for you to enjoy.
Will Barkley be there? (He really is the cutest dog on the planet.)

Awwwwww, thanks! (I think so, too.) It is in Barkley's Five-Year Plan to be further trained as a Therapy Dog. For now, though, his puppiness tends to overwhelm him at times, and expecting him to be on his best behavior all day at the office would be like asking a 7 year-old to do it.
Can I bring my dog, then?

We are a pet friendly office! Quiet, well-behaved pups, etc. are welcomed here. I ask that you let me know ahead of time, so I can have the water bowl filled and waiting.